Title of Keynote Speech: "Digital Business Strategy: Leveraging Emerging Technologies"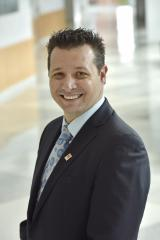 Paul A. Pavlou is Senior Associate Dean for Faculty Research, Doctoral Programs, and Strategic Initiatives at the Fox School of Business at Temple University. He is also the Milton F. Stauffer Professor of IT & Strategy. He also serves as Co-Director of the university-wide Data Science Institute at Temple University.
Paul is responsible for all doctoral programs at the Fox School, such as the PhD in Business Administration, PhD in Statistics, the Inter-Disciplinary PhD in Decision Neuroscience, the Executive Doctorate in Business Administration (DBA) in Philadelphia and China, and the Doctor of Science in Global Finance in China.
Paul received his Ph.D. from the University of Southern California. He was #1 in the world in publications in the top two Information Systems journals (MISQ & ISR) for 2010-2016. His research has been cited over 36,000 times by Google Scholar, and he is recognized among the "World's Most Influential Scientific Minds" by Thomson Reuters based on an analysis of "Highly Cited" authors in Economics & Business for 2002-2012.
His research appeared in Management Information Systems Quarterly, Information Systems Research, Journal of Marketing, Journal of Marketing Research, Journal of the Academy of Marketing Science, Decision Sciences, Journal of Management Information Systems, Journal of the Association of Information Systems, among others. His research spans several disciplines (information systems, marketing, strategy, operations, decision sciences) with emphasis on data science, business analytics, digital business strategy, and developing research methods. 
Paul is a Senior Editor at ISR and earlier at MISQ and JAIS. Moreover, Paul also won several Reviewer awards, including the 2009 Management Science Meritorious service award, the 'Best Reviewer' award of the 2005 Academy of Management Conference, and the 2003 MISQ 'Reviewer of the Year' award. He organized several conferences, including the Statistical Challenges in Electronic Commerce Conference (2018), the INFORMS Conference on Information Technologies and Systems (2015), the AMCIS Conference (2015), the Mediterranean Conference on Information Systems (2011 & 2014), and the Workshop on Information Systems Economics (2010).
Title of Keynote Speech: "Digital and social transformation: a perspective on universal values"

Frantz Rowe is a Professor at the Université de Nantes and SKEMA Business School. His researchinterestsrevolvearound the philosophy of information systems, IS-enabled organizational transformation, inter-organizational systems, and the effects of IT. He believes that our research should illuminate the complexity of the phenomena we study so that we better understand action consequences and design technology accordingly.
He has been serving as a Professor in Nantes, France, since 1995. Before he was a Professor at EcoleNationaleSupérieure des Télécommunications, Paris, and an Assistant Professor at EcoleNationale des PontsetChaussées, Paris. He was trained as an Engineer and as an Economist. He graduated from UC Berkeley in 1985. His Doctoral degree from the University of Paris was awarded in 1991.
He has published 65 articles in 40 different peer-reviewed scientific journals including MIS Quarterly, Information Systems Journal, Journal of Information Technology, Database, Accounting Management and IT, Journal of Global Information Management, Journal of Decision Systems, Transportation Research, Technological Forecasting and Social Change, IEEE Transactions on Engineering Management and several books, including "Innovation and IT in an International context" at Palgrave Macmillan (2014) with DovTe'eni, two of which were awarded the FNEGE and the EFMD prize in 2016. He has been the Editor in Chief of Systemesd'Informationet Management, http://revuesim.free.fr which he has co-founded. He is still on its Board and currently serves as co-editor of the European Journal of Information Systems.
He has directed 30 PhD students and was the first Director of the graduate program in IS at the Management Faculty of the University of Nantes. He is currently directing the PhD program in Management. He has been a member of the Board of the University of Nantes and in charge of the IS Policy as its Chief Information Officer.
He co-founded the Association Information et Management in 1991 and served as Vice President for Research till 1998, before becoming its President. He has organized the « E-marketing » research day and the SILOGIN days for several years at the University of Nantes. He is involved in leading conferences such as ECIS and ICIS. At ECIS he has served the former one as Track Chair for IS and Strategy (Naples and Regensburg) and Doctoral Consortium co-chair in 2014 in the Negev. With DovTe'eni has been the co-chair for ICIS 2008 in Paris. He is an AIS fellow and is preparing ECIS 2020 in Marrakech as co-chair of the conference. He is the track co-chair on IS Research Methods, Theorizing and Philosophy for ICIS 2018.